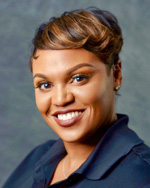 TEMIKA KINDRED
Licensed Florida Real Estate Agent
Office Phone: 407-425-3553
Cell Phone: 321-278-4720
Temika Kindred, a licensed Florida Real Estate Agent, joined Florida Real Estate & Land Co. in 2014. She brings integrity, a goal-oriented mentality and a strong business background. She has been a top producer in the residential real estate industry since 2006 and has an extensive background in negotiation and contracts. She has comprehensive knowledge as a business owner in the fitness industry giving her great understanding by listening to what is important to her clients. She is savvy, sharp and smart about the property market. Her outgoing personality makes her very easy to work with. As a Realtor she enjoys the opportunity to be acquainted with so many interesting people and help them realize their dreams.
Temika Kindred has strong ties in Central Florida, and is a member of several civic and charitable organizations. She believes that the best of way to personally know your community is by serving and being an active part of it.
Let her skills and experience help make your real estate transaction as stress free as possible.